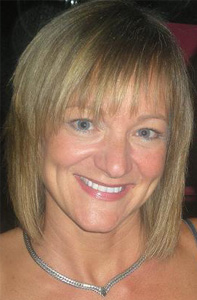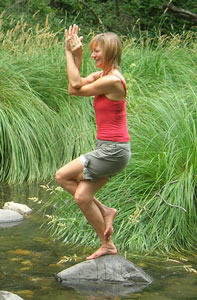 Dotti Ohlman
Dotti's mission is bold and clear:
To create life-changing fitness experiences, every time - every class!
Ignite your inner Moxie with Bodybalance!
Founder of Moxieflow and your Lead Instructor, Dotti has 34 years experience in the arenas of health, fitness and nutrition. With extensive training in anatomy, physiology and nutrition through her career as a Registered Dental Hygienist, as well as Oral Systemic Health Specialist and Educator, Dotti has a thorough understanding of the body. Her background in orthopedics, physical therapy and athletic training instilled in her early on the importance of practicing within your abilities to prevent injury and build a strong, pain-free body.
In 2002, Dotti became a student of Bonnie Prudden Myotherapy® Education. This method of erasing pain in the muscles and using corrective exercises to re-educate the muscles equipped her with tools that would later become an integral part of her unique approach to wellness.
Moving to New Zealand in 2004 - the home of Les Mills group fitness classes, Dotti began her journey into Bodybalance. With Bodybalance, she experienced a revelation in physical conditioning unlike any workout she'd ever done. For the first time she saw her bicep muscle! She was hooked, and in 2008 became a Certified Les Mills Bodybalance Instructor. In 2013 she completed Advanced Intructor training in Bodybalance.
Grateful for the opportunity to serve people at all stages of health - good health, acute injury, chronic pain, support after surgical and non-surgical interventions, their sequelae, and the emotional price of pain - she absolutely agrees with her mentor and friend Bonnie Prudden®: "It is pain that ages us – not years." Dotti now assists in Myotherapy workshops, completing 400+ hours to date. Serendipitously, Bodybalance supports and complements the principals of Myotherapy corrective exercise.
Dotti is passionate about learning, and participates in Continuing Education classes for licensure requirements as well as personal growth. She has studied holistic animal care for 13 years and utilized homeopathic and herbal remedies for herself and her 'kits' with great success. She is awed and inspired at the body's response and recovery when given support from nature.
Dotti firmly believes that we all have the power to take control over our own well-being. She encourages her students and clients to learn to harness this power and use it to reach their potential. The koru symbol she has chosen for Moxieflow is from the New Zealand silver fern, which represents growth, new beginnings and harmony. Growth requires change, and often change requires a little Moxie. Dotti challenges you to ignite your inner Moxie. Whatever it is that holds you back, physical or mental, Bodybalance will inspire what you need!
Which MOXIE INGREDIENT do you need?
Courage, Vigor, Skill and Know-how!
Backbone, Guts, and Gumption!
Energy and Initiative!
Spunk and Spirit!
*Bonnie Prudden® and Bonnie Prudden Myotherapy® are Registered Trademarks of Bonnie Prudden Myotherapy® Inc.